Professional Expertise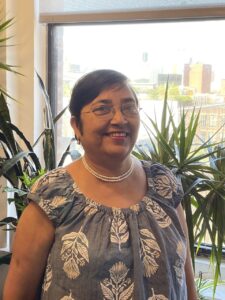 Vandana Ranjan is an award winning, action oriented professional with experience in finance, accounting, bookkeeping and real estate industry.  Vandana works meticulously and conscientiously in clients' favor.  Her key strengths lie in her ability to identify clients' needs and requirements and to provide right solutions to their problems.  Her property valuation, problem solving and strategic thinking skills have reaped benefits for all the clients that she has worked with. With accuracy and diligence, Vandana achieves the best results for her clients.
Vandana served as an Adjunct Faculty Member at New York University's Schack Institute of Real Estate.  Her students were very appreciative of her for sharing the knowledge and found the information useful.
Currently, Vandana is maintaining the books as full charge bookkeeper for a law firm and a few small business owners.  At another recent assignment, Vandana worked as full charge part time bookkeeper for an Italian interior design and contracting firm in New York where she analyzed the accounts, established procedures and reconciled all accounts and also prepared accounts receivable and accounts payable reports and other financial reports.  Vandana is proficient in accounts payable, accounts receivable, bank reconciliation, journal entries and payroll.  She has a few clients in accounting and bookkeeping service who are pleased with her services.  She is very good with numbers and proficient in Excel.
Vandana successfully completed bookkeeping certificate from the American Institute of Professional Bookkeepers.  She accomplished it fully by relying on self-study without attending any college classes for this course except following the instructional material offered by the Institute.
Vandana is fully trained in Quickbooks and Xero and has also provided training to staff on Quickbooks in her work assignments.
There's nothing more important than partnering with a talented bookkeeper to keep your books straight. Vandana Ranjan worked with us as our bookkeeper in 2019. Her in-depth and comprehensive accounting and bookkeeping knowledge was immensely helpful in streamlining our accounts. Vandana is conscientious, meticulous, diligent, tenacious, and extremely knowledgeable in accounting, finance and bookkeeping. Vandana proficiently guided us through the long and arduous journey of closing our accounts successfully in 2018 as well as expertly handled reconciliation of all our accounts. I highly recommend Vandana to bring added value to any accounting and bookkeeping assignment.             Ricardo, G. Chief Financial Officer, Lisar USA
Vandana served as Treasurer on her coop Board from 2009-2012. She worked closely with the property manager, accountant, legal counsel, vendors and employees in managing her 78 units coop. During her tenure as treasurer, she was commended for balancing the budget and restoring the coop's fiscal health.
Vandana has considerable experience in real estate market information, property valuation, commercial real estate debt structure analysis and holds New York University's prestigious Professional Certificate in Real Estate Finance and Investment.  At one of her most recent assignment as Senior Manager, National Research Services at Studley, Inc., a commercial real estate firm specializing in tenant representation, she proactively supported business development resulting in 6% to 9% of the company's annual revenue. In a related position, Vandana served as a research consultant to JP Morgan Chase, a large banking institution in the area of mortgages and commercial loans.
Vandana is a results-driven professional with proven achievements in tackling new challenges successfully.  She is the consummate professional, trustworthy very hard working and always prepared and willing to go above and beyond for her clients.
We are a small law firm and hired Vandana Ranjan in early 2020, just prior to the pandemic. Our whole mode of operation changed as we were working remotely. Showing resilience and creativity, she helped us re-establish procedures and operations. She handles all aspects of bookkeeping, including banking, payroll, our time system, financial reporting, and dealing with our accountants and vendors. Vandana accurately and competently handles her work, is friendly, and is a person of honesty and integrity.           –Robert, F., Esq.
Activities & Achievements
Vandana serves as the board of trustees of Salt Marsh Alliance and Madison-Marine-Homecrest CivicAssociation. She served on the Executive Committee of the SEC Roughriders ToastMasters Club. Vandana is an active member of Real Estate Board of New York (REBNY). Vandana was awarded Special Libraries Association (SLA) New York Chapter Distinguished Service award and SLA Diversity Leadership award.